Outback Turkey Dash
On Saturday, November 23rd, Northern California racers arrived in Chico, California to fill out 17 heats of 1/10th electric off-road racing at the Outback Turkey Dash. It would be an early 7:00am start and it would be a cold start as racers arrived to get their first practice laps on the high bite Outback Raceway clay surface. The racing program would start at 11:00 am sharp as noted on the perfectly executed race schedule handed out by race director Ruben Benitez. For this event the normal IFMAR/Stagger start qualifying would give way to full day of heads up heat racing, a very welcomed change by the racers. The program would consist of three rounds of heads up heat racing and single main events with bumps ups. The racing action would be hot and heavy with lots of great bumper to bumper, nose to tail racing all day long with smiles everywhere due to the racing format used for this race.
After a full day of heat racing it would come down to the mains and the battles for food, yes food. The winners in each class would be taking home a Thanksgiving Day dinner table center piece, turkey, and second and third places would take home a large pumpkin or pecan pie. After all the dust settled it would be the following drivers filling their refrigerators with Thanksgiving Day goodies. Results can be found by clicking here and videos of the each heat and main you raced click here:
Facebook page from the event : https://www.facebook.com/events/1375752936003056/.
Rookie: 1st Sean Catecci, 2nd JP Herrera, 3rd Josh Gibson
40+ Stock Stadium Truck: 1st Mike Maxwell, 2nd Mike See, 3rd Jerry Douglas
40 + Stock Buggy: 1st Todd Pearson, 2nd Randy Lathrop, 3rd Mike See.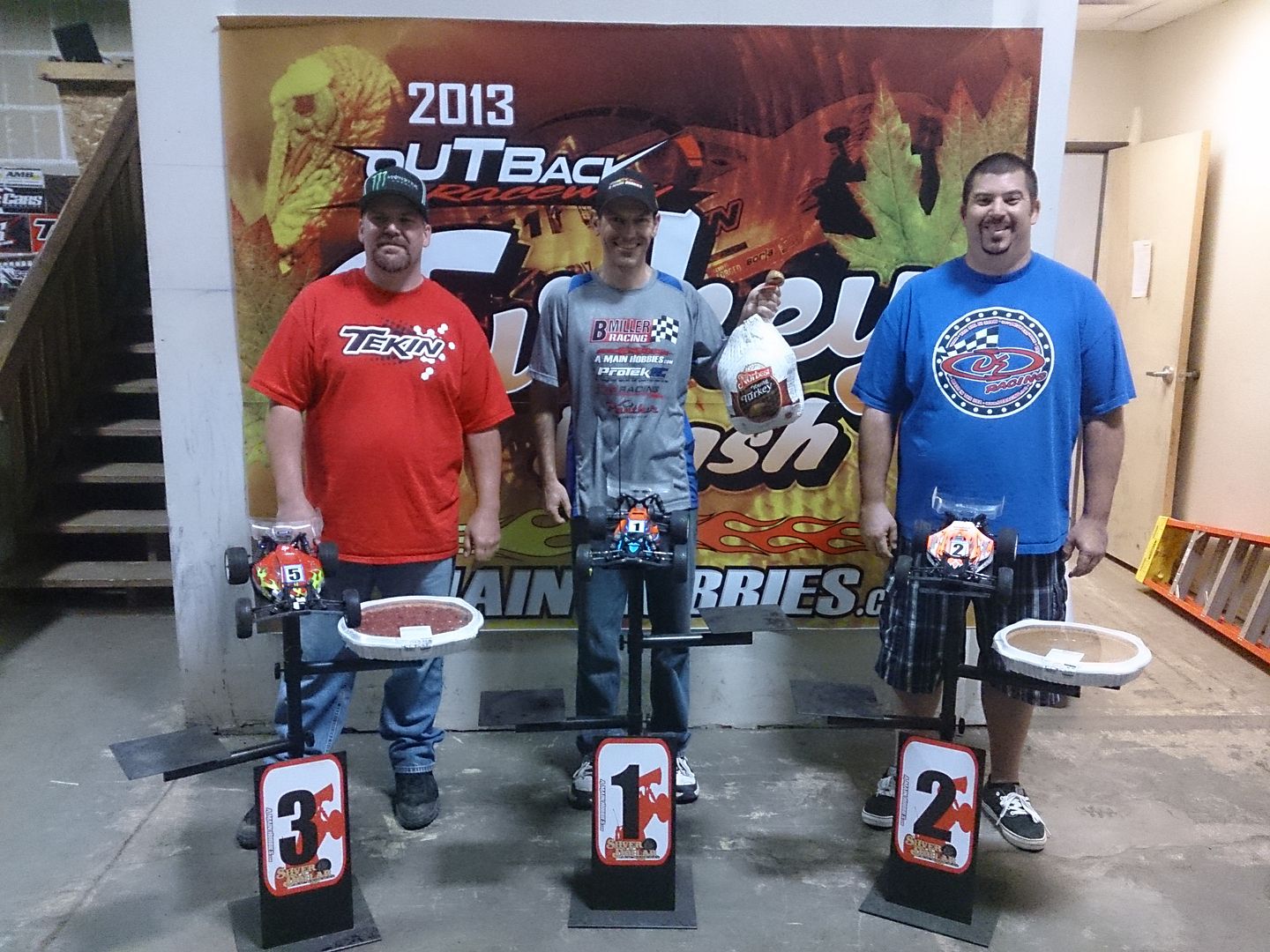 Stock 2wd Buggy: 1st Nathan Lavery, 2nd Chris Emard, 3rd Mike Gordon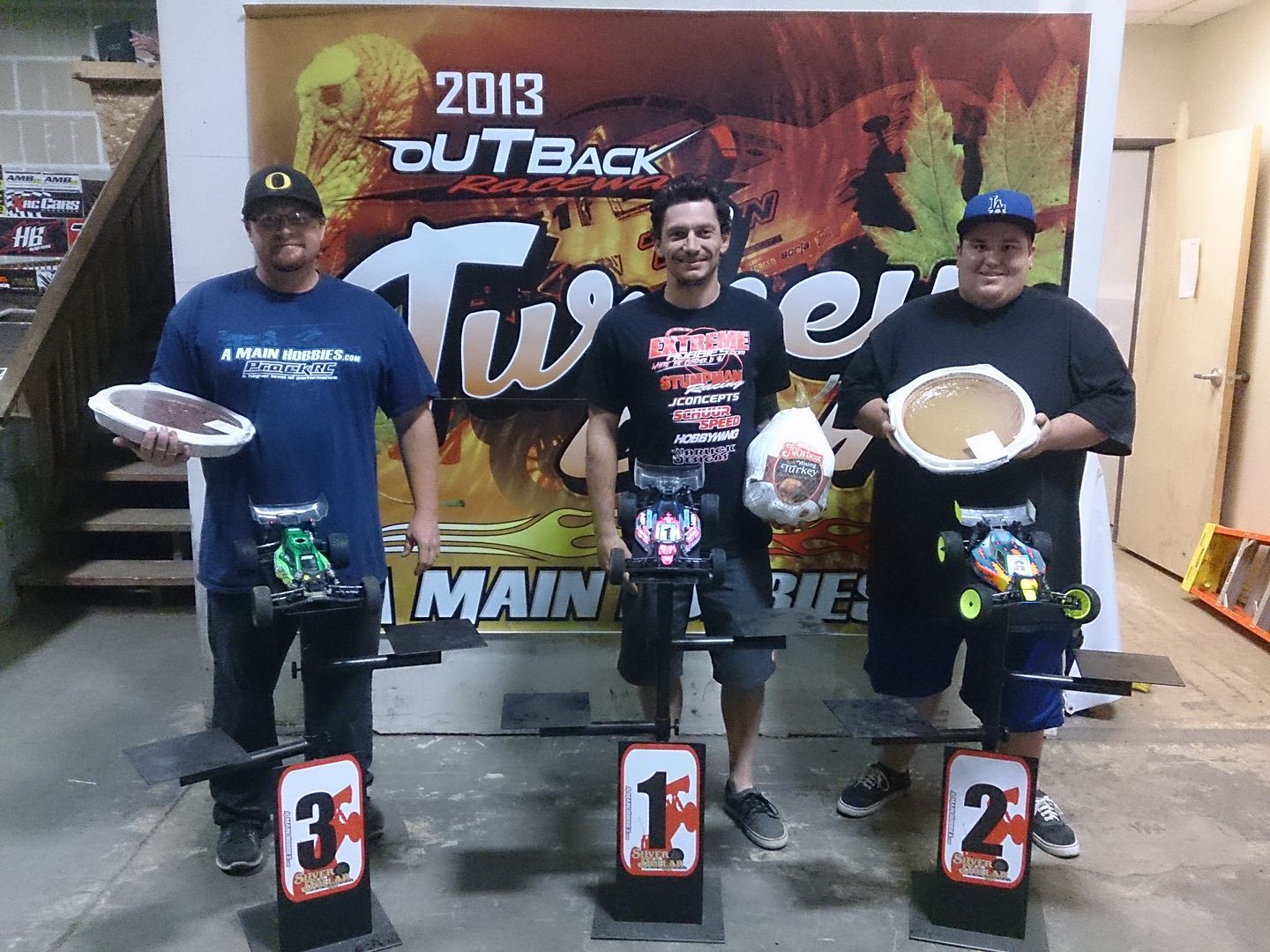 Stock Stadium Truck: 1st Mike Maxwell, 2nd Cameron Kerndt, 3rd Corey Koehler.
Stock Stadium Truck: 1st Nathan Lavery, 2nd Kyle Layton, 3rd Cole Fiori.
Open 2wd Shortcourse: 1st Kevin Jelich, 2nd Kyle Layton, 3rd Terry Wickum.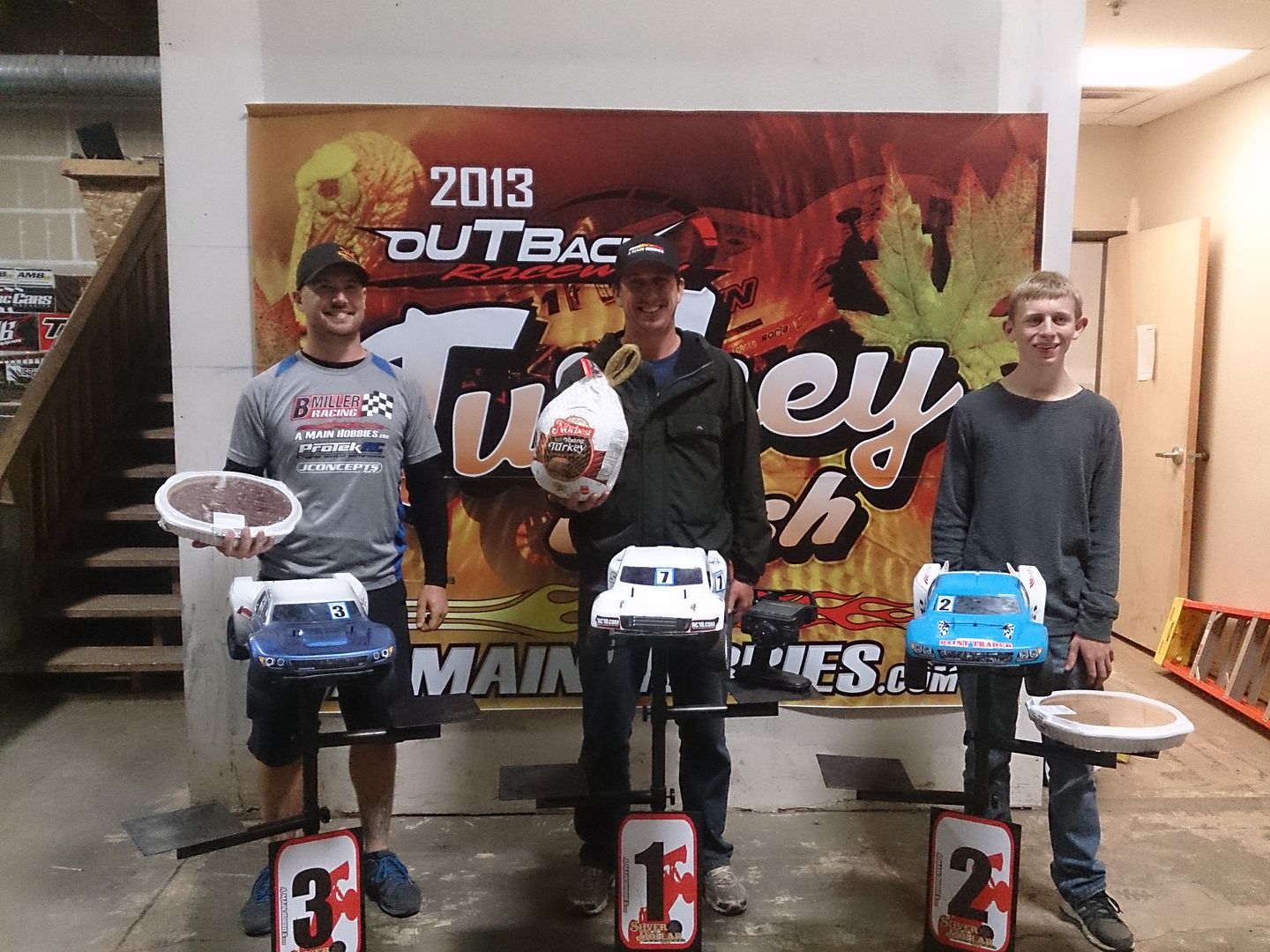 Open Stadium Truck: 1st Jennifer Lathrop, 2nd Jerry Douglas, 3rd Korey Williams.
Open 4wd Shortcourse: 1st Lou Figueria, 2nd Arthur Knight, 3rd Orlando Madueno.
E Buggy Lite: 1st Austin Blair, 2nd Mike Gordon, 3rd Mark Schroeder
Open 4wd Buggy: 1st Eric Albano, 2nd Nathan Bernal, 3rd Brian Strange.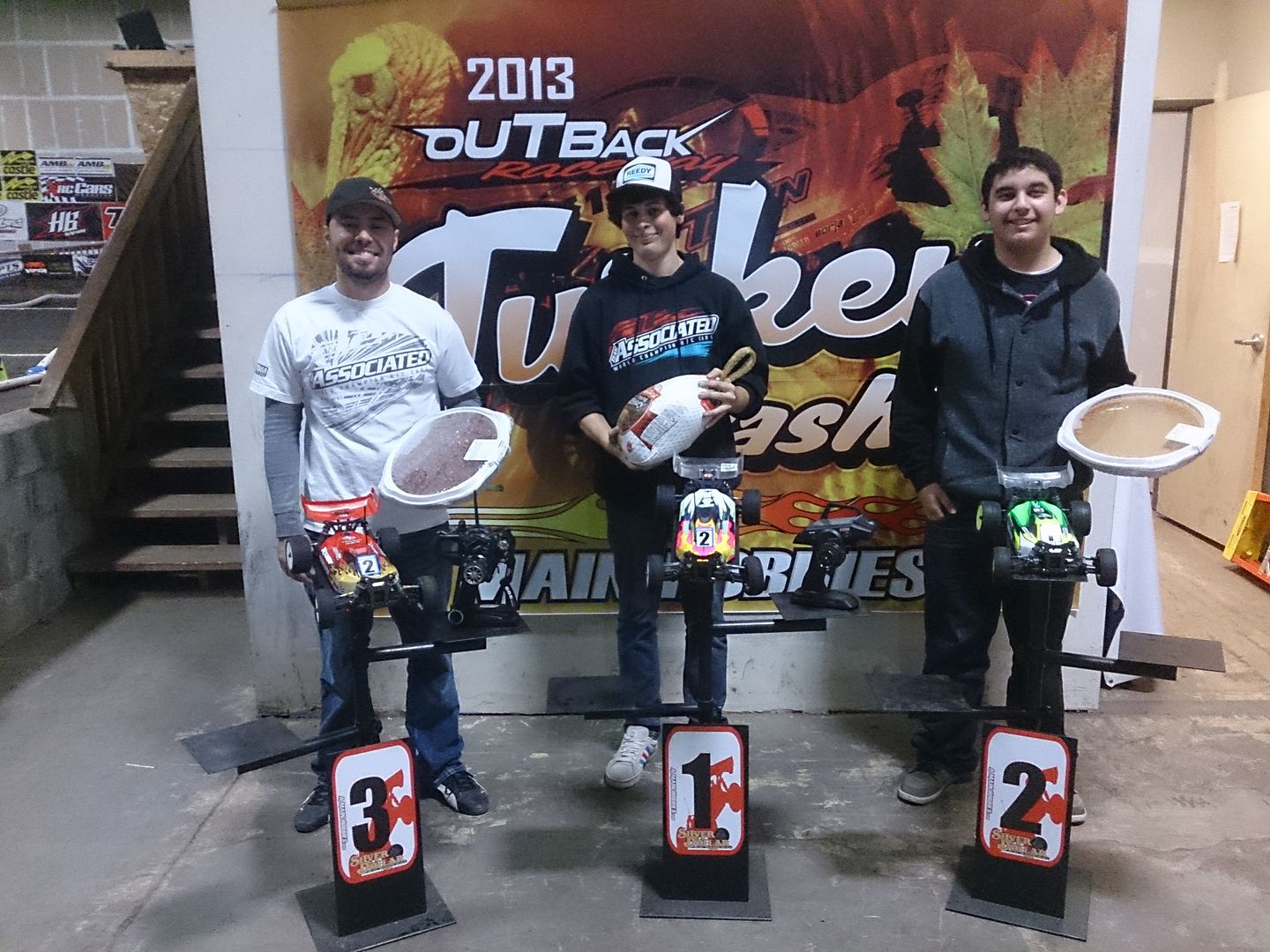 Open 2wd Buggy: 1st Eric Albano, 2nd Brian Strange, 3rd Nathan Bernal.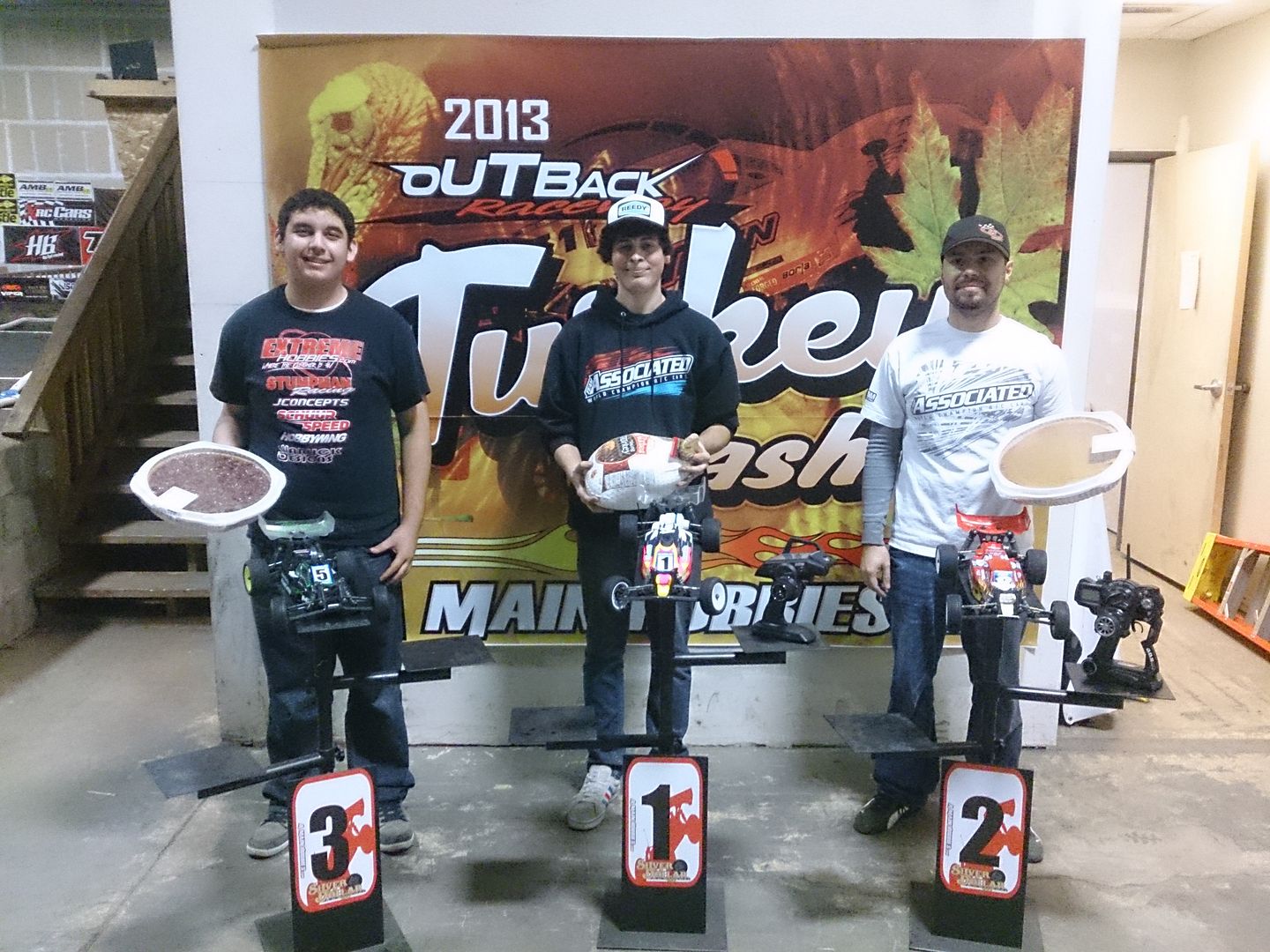 Thanks to all that made this event a huge success and we'll see you on the clay at Outback Raceway soon!