Fall Brawl 2013
Nov 2nd-3rd 2013
Over the weekend of November 1st – 3rd, racers from all over Northern California, Nevada and Arizona converged on the high bite clay of Outback Raceway, located in the heart of A Main Hobbies' 60,000 sq. ft., Chico, California warehouse, to do battle in one of the 11 different divisions at the 2013 Fall Brawl and the First Family of RC Cup.
After one day of practice, a Friday night club race, 95 qualifying heats, 24 main events, 188 entries and 3 days of action on the track, the 2013 edition of the Fall Brawl is now in the books, and what a weekend of racing it was. Racers started to show up as early as 8:00 a.m. on Friday morning to get their first laps on the newly reconstructed Outback Raceway layout that was finished that same morning by the A Main Hobbies track crew, Kevin Jelich and Mike Maxwell. The layout was a fast, fun, racy and an exciting layout that consisted of eight turns, the double–double step down, a 14' table top, the six-pack, step–up triple and the ProTek bank which lead you onto the full front straightaway. The layout was a hit with all the racers which made for some of the best racing action we've seen at Outback Raceway.
Friday would consist of a full day of practice and a Friday Night club race. The day would start with open practice at 10:00 a.m. when drivers would get their first opportunity on the new layout. Drivers would spend the morning hard at work figuring out the best lines and setups in hopes of making one of Sunday's A finals. By midafternoon open practice had turned to controlled practice as more drivers started to arrive and prepare for the weekend of competition that lay ahead of them.
Saturday morning came early with the arrival of Java Brava for some great trackside morning coffee. There were a few drivers still showing up for their first practice laps as everyone else was trying to get their last few laps before the start of qualifying. As per the heat schedule prepared by race director, Ruben Benitez, qualifying started at 10:00 a.m. sharp. The heat schedule is something new for A Main Hobbies' events and has been a hit with the racers making it convenient for racers to know exactly what times they would be racing allowing them to plan their race days accordingly. The schedule was executed perfectly. The racing would be on time all weekend long never being off by more than one minute. Needless to say heat schedules will now be a regular part of any and all A Main Hobbies race events.
Qualifying started off with the Kids Class. The Kids Class is for any racer 14 years or younger driving any 1/10th, 2wd truck or buggy with a 17.5 motor limit and non-ramping (blinky) speed controls. The Kids Class is also part of the First Family of RC Cup. The First Family Cup was started in an effort to get more father/son teams to our events and recognize them for their efforts and contributions to the present and future of our hobby. Without kids we have a bleak future for RC racing. The FFRC Cup is awarded by the combined finish position of the child participating in the Kids Class with the weighted overall position of the parent. The lowest score wins the FFRC Cup (First Family of RC Cup). The father /son team get their names on the perpetual cup and they get a plaque with their picture to commemorate their victory. This would be the second year for the FFRC Cup which was won by Ron and Raysen Chunn in 2012. For 2013 there would be 8 drivers competing in the Kids Class, with seven of those drivers competing for the FFRC Cup. The kid to beat in the Kids Class all weekend long was 14 year old Chico native Cole Fiori. Cole was able to pilot his Losi 22 to clean sweep of all four qualifying rounds and the overall win on Sunday. Finishing second and what I felt was one of the most impressive 9 year olds I've seen in a long time, was Josh Gibson from Jackson, CA. This was Josh's first ever multi day race and only his fourth time racing an RC car. After four rounds of qualifying Josh would start the Sunday "A" final second on the grid with his Team TC02 buggy and go on to finish second in the final. Expect BIG things from this little guy as he continues to grow and progress in RC racing. Josh and his dad, Darrin Gibson finished second in the FFRC Cup total. Finishing third in the Kids Class driving an Associated T4.1 was another Chico local Jared Thulin. Jared and Josh battled for the entire 6 minute main swapping positions four times before Josh was able to pass Jarred and keep him in third place to finish the main. Jarred and his dad, Rob Thulin, were also the winners of the second annual First Family of RC award. Congrats to Cole, Josh and Jared for their performances and to Jarred and his dad Rob for winning the First Family of RC Cup. Final finishing order would be Cole Fiori 1st, Josh Gibson 2nd, Jarred Thulin 3rd, Nick Whyte 4th, Ethan Thulin 5th, Mike Sareeram 6th, Ryon McKnight 7th, and Robert Busch 8th.
Up next were the old guys, 40+ Stock Stadium Truck. As the name implied you must be 40 years of age or older, running a ROAR approved 17.5 turn motor and ROAR approved blinky non-ramping speed control. This is a growing class at our events and for this event there was no lack of competition or fun! After four rounds of qualifying Rob Moots would put his Team Stumpman , Associated T4.2 on the pole position for the A final. Rob was the man to beat all weekend and was ready to lay it down in the final. For the start of the final it would be Rob checking out on the tone. He never looked back taking a wire to wire victory. The battle for second was non-existent with Mike Maxwell crossing the line unchallenged to finish second in his mid-motor TLR 22T. Finishing third was Bob Vasallo in his Team C TC02T but it didn't look like that till the final lap when Randy "The Slower 1" Lathrop gave up a sure podium spot on the last lap to Vasallo for a great finish to that race. Rounding out the field was Randy "The Slower 1" Lathrop 4th, Ruben Benitez 5th, Mike See 6th, Jeff Fridrich 7th, Dave Whyte 8th, Rob Thulin 9th and Joe Schmitz 10th (DNS).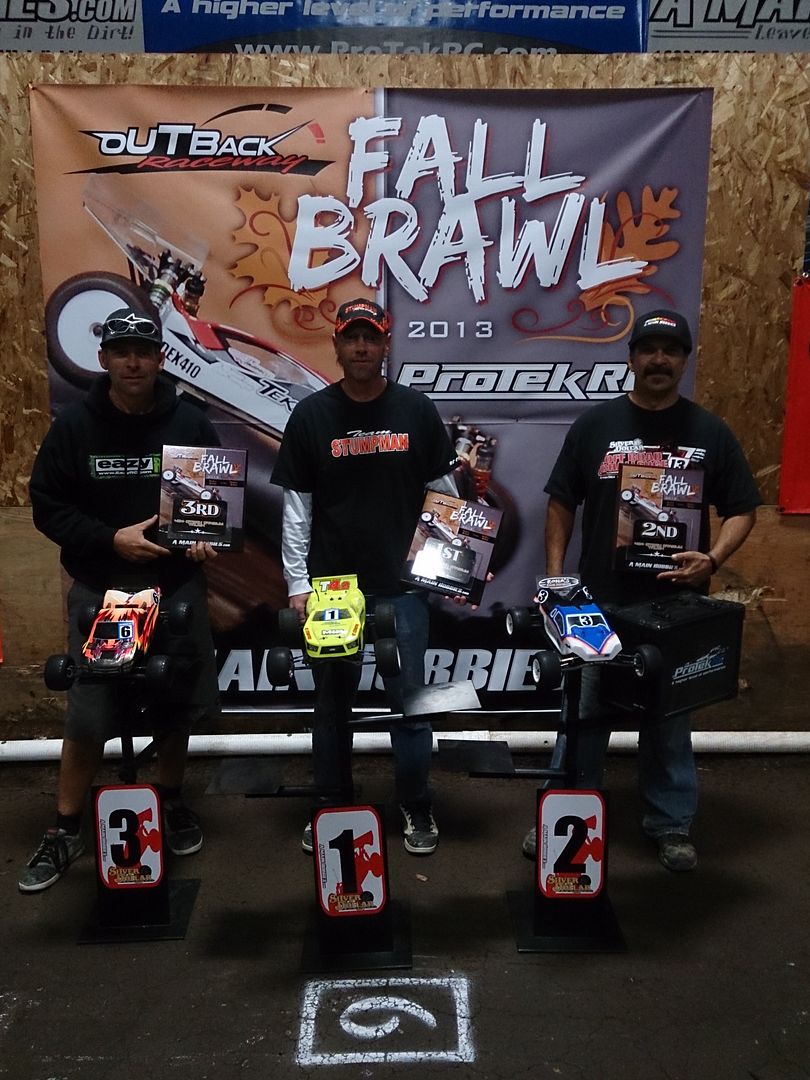 In the Stock 2wd Short Course division it would be a two driver battle all weekend long. Mike Maxwell in his Tekin powered, ProTek fueled TLR 22SCT and Pete "Gascan" Gascon in his nearly box stock Kyosho Ultima SC would wage war on each other for all four rounds of qualifying. Other than electronics the only aftermarket part Pete used in his box stock Kyosho Ultima SC was a full set of Kyosho Velvet shocks. After four rounds of qualifying Mike and Pete would be tied on points and it would go to the tie breaker. The qualifying tie breaker would be the combined total laps and time from the two qual points rounds used to seat you in your main. This would mean a mere 0.637 seconds would break their tie and give Mike Maxwell the overall TQ and pole position going into Sunday's finals. The main event was less eventful. Mike Maxwell was able to take the victory with a wire to wire win unchallenged and Pete was able to bring home second with a near wire to wire run if it weren't for Korey Koehler who finished third. Korey was able to battle Pete for a few laps in the early stages of the race but couldn't keep it in front of Gascon and would eventually finish third. Rounding out the field was Cameron Kerndt 4th, Matt Hauck 5th, Adam Sobolik 6th, Jason Schurig 7th, Sean "Dough Boy" DeHart 8th, Art Knight 9th and Joe Schmitz 10th (DNS).
The Open 2wd Short Course Truck division was a pleasant surprise. After four rounds of qualifying it would be non-other than A Main Hobbies' own track designer/builder extraordinaire Kevin Jelich who would take the overall TQ by winning three of his four qualifying rounds. Having run two of the fastest runs of the weekend it looked as though Jelich would be unstoppable in the mains. Qualifying second for the main would be a relatively unknown 17 year old, Kyle Layton from Rocklin, whose best run was nearly 5 seconds slower than Kevin's fastest run in qualifying. BMiller Racings', Terry Wickum would be third on the starting grid for this main with his best run in qualifying being the third fastest run of the weekend for the Open 2wd SCT division. On the start tone Jelich took off but was unable to build any real lead on the field. A few minutes into the final Jelich's truck would start to look to be a bit on the loose side. Needless to say Kevin had his hands full. It looked as though this race would pretty much finish how it started when at about the 5 minute mark Layton and Wickum would close the gap on Jelich while he was struggling to stay ahead of Wickum. All of a sudden it was a three way dance for the lead. Kevin was feeling the pressure and it was obvious his truck wasn't able to hold on to the pressure that Wickum and Layton where putting on. The relentless pressure took its toll on Jelich and on lap twenty-one Wickum got by Jelich to move to the lead. Jelich would drop to second and Layton would remain in third. On the very next lap Layton would take the lead from Wickum who made a mistake in the six pack avoiding traffic and collected Jelich. Wickum would end up second after the mistake and Jelich in the third spot. This was the confidence booster that Layton would need to finish the last two minutes of the race under constant pressure from Wickum and Jelich and take the victory, but it doesn't end there. The spoiler role would be played by Jeff Lorenzo who hung out just outside the top three for this eight minute final until the final lap where he passed Wickum for the final podium position. For those that missed it, the last two minutes of this race was some of the best SCT racing we've seen in a while. Watch out Nor Cal racers, Layton is definitely one of our up and coming Nor Cal racing talents and is looking for the title of Short Course King in Nor Cal. The final finishing order would be Kyle Layton 1st, Kevin Jelich 2nd, Jeff Lorenzo 3rd, Terry Wickum 4th, Jason Moberly 5th, Drew Lorenzo 6th, Tom Leman 7th, Cameron Townsend 8th, Steve "Borris Bodies" Carter 9th and David Sareeram 10th.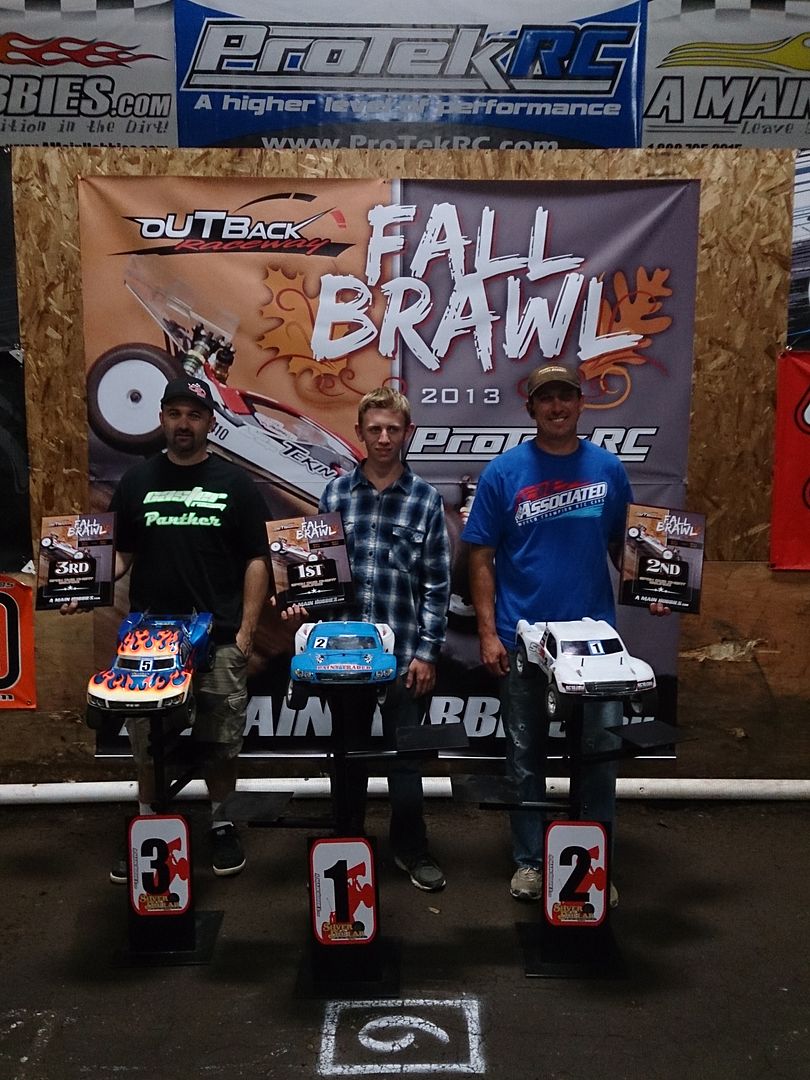 For this year's addition of the Fall Brawl a new buggy division would be added, 40+ Stock 2wd Buggy. Yes another old man's class filled with 40+ year old men trying to recapture the glory of their younger racing years. In a surprise move, Sacramento, CA racer, Brian "Mod 4 Life" Minks, would throw his name into this racing division which turned out to be a great move on his part. After four rounds of qualifying Minks would take the overall TQ by setting TQ in three of the four qualifying rounds in his Tekin powered, Team Associated B4.2 and occupy the pole position for Sundays final. Starting behind Minks in the top three would be Randy "The Slower 1" Lathrop and Rob Moots. The battle was on for the main. At the start tone Minks was able to get thru the chicane and hold the lead until lap 8 when Lathrop would pass Minks for the lead. Lathrop was able to hold the lead until lap eighteen when Minks was able to catch and pass Lathrop to regain his early race lead. From this point Minks would never looked back and parlay his lead into the top podium position and a win. The final finishing order would look like this: Brian Minks 1st, Randy Lathrop 2nd, Rob Moots 3rd, Mike See 4th, Bob Vassallo 5th, Dan Devey 6th, Lance Taylor 7th, Dave "Chi-Chi" Chichizola 8th, Jeff Fridrich 9th and Joe Schmitz 10th (DNS).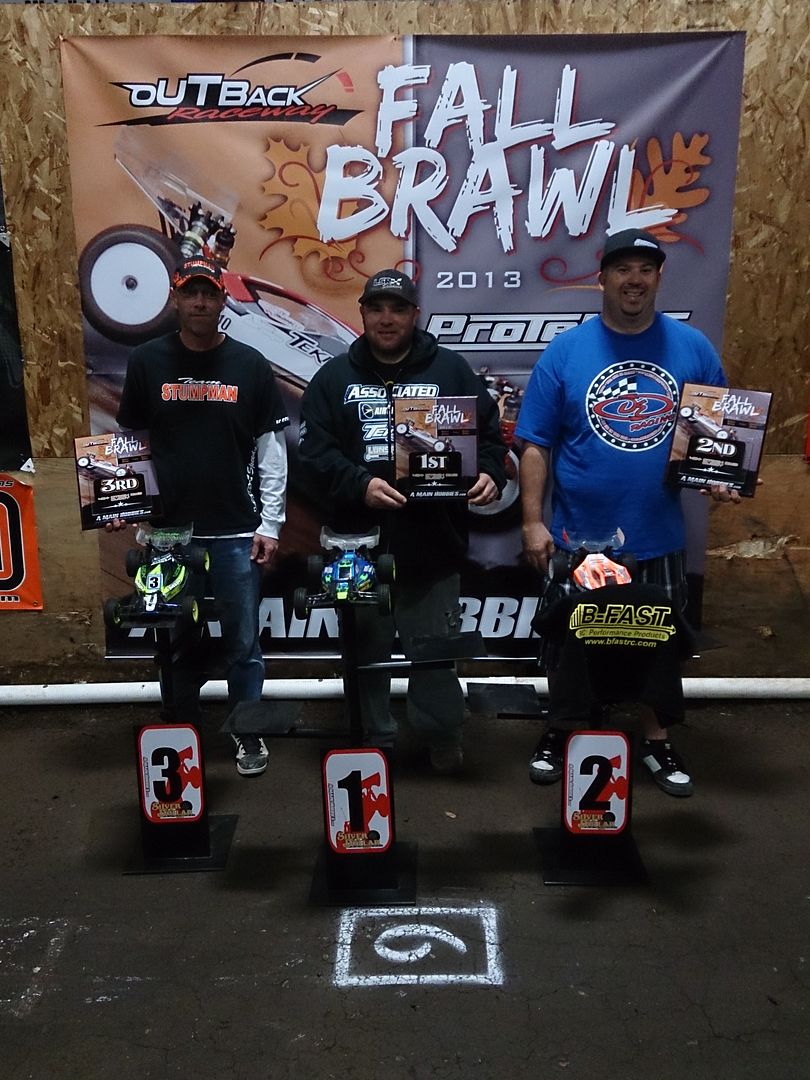 The Stadium Truck class has been making a comeback here in NorCal this past season and would be included in the 2013 Fall Brawl. In the Stock Stadium Truck division it would be Nathan Lavery driving a Schuur Speed/Hobby Wing powered Team Associated T4.2 to the TQ and Sunday's A final pole position. Lavery was able to TQ three of the four rounds giving him a perfect score going into the mains on Sunday making him the odds on favorite to take the title. At the start tone Lavery was gone, getting a clean start that would allow him to take a wire to wire victory. All the excitement happened behind Lavery when on lap three when there was a big pile up causing a big shift in the running order. Second qualifier Randy Lathrop would drop from second to sixth and only see third place for a few laps again before ending his race in the eighth spot. Dujuan Moore in his Speedpassion powered, Team C TC02T would finally get a lucky break in this mess and come out in the second position where he and Mike Maxwell in his mid-motor TLR 22T would battle and swap positions a couple of more times before the race would end with Moore finishing second and Maxwell taking third. The final order would look something like this Nathan Lavery 1st, Dujuan Moore 2nd, Mike Maxwell 3rd, Jason Bell 4th, Kyle Layton 5th, Clint "Stlnlst" Riley 6th, Dan Jurgenson 7th, Randy Lathrop 8th, Bob Vasallo 9th and Sean DeHart 10th.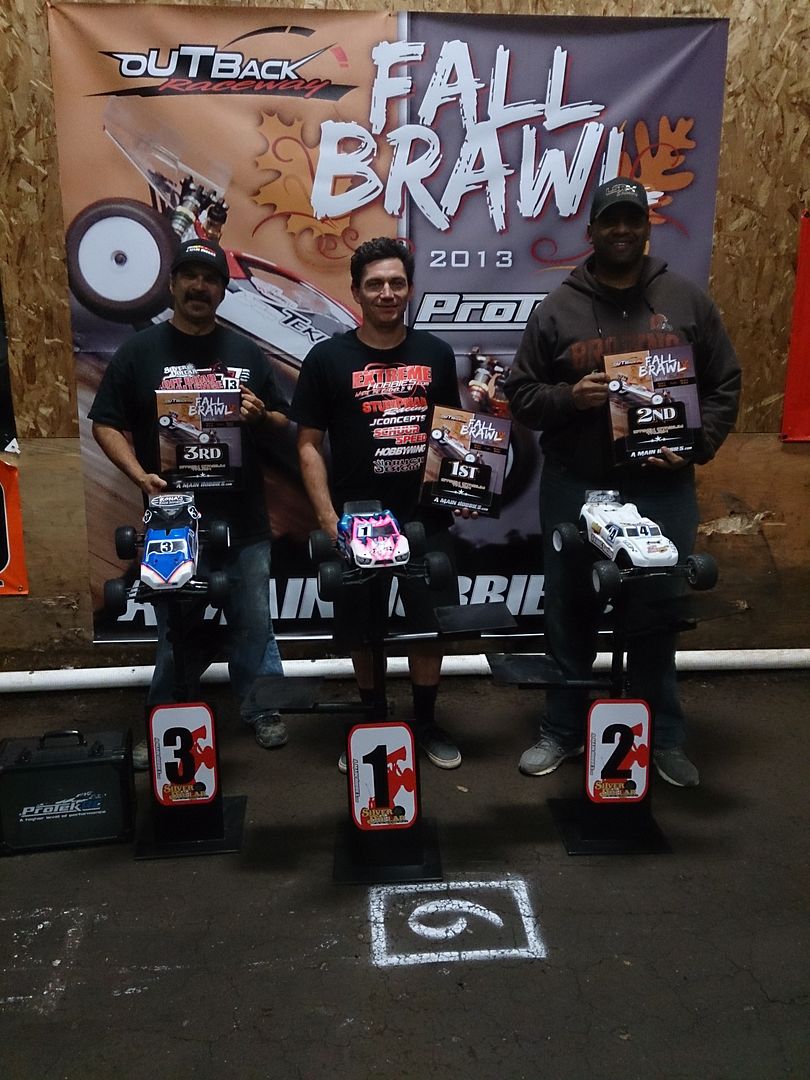 The Open Stadium Truck division would turn out to be a one man show dominated by factory TLR driver, Phillip Atondo. Atondo would show everyone the fast way around the Outback Raceway layout and dominate qualifying taking the pole position for Sunday's final by setting the TQ in each of the four qualifying rounds. Needless to say, Atondo was untouchable with a perfect weekend of qualifying and a dominating victory in the final where he would start from the pole and lap the entire field in the eight minute final. The story of the weekend in the division would be the coming out party for Sacramento, CA racer Jennifer "The Faster 1" Lathrop. Jennifer made the jump from the stock ranks to the mod ranks for the 2013 Fall Brawl. Jennifer would go on to driver her Team Associated T4.2 to a third qualifying position and would finish sixth in the eight minute final after some tuff luck. Finishing third in the final would be another 10 year old, Drew Lorenzo from Sacramento, CA. I was quite impressed by the 10 year old Lorenzo who is already making a splash for himself in the hot Northern California, 10th off-road scene. It's safe to say if this youngster keeps at it he'll be the man to beat in the next few years. After eight minutes of racing the finishing order for this final would be Philip Atondo 1st, Corey Williams 2nd, Drew Lorenzo 3rd, Cameron Kerndt 4th, Tom Leman 5th, Jennifer "The Faster 1" Lathrop 6th, Steve "Borris Bodies" Carter 7th, Dennis Miller 9th and Josh Gottstein 10th.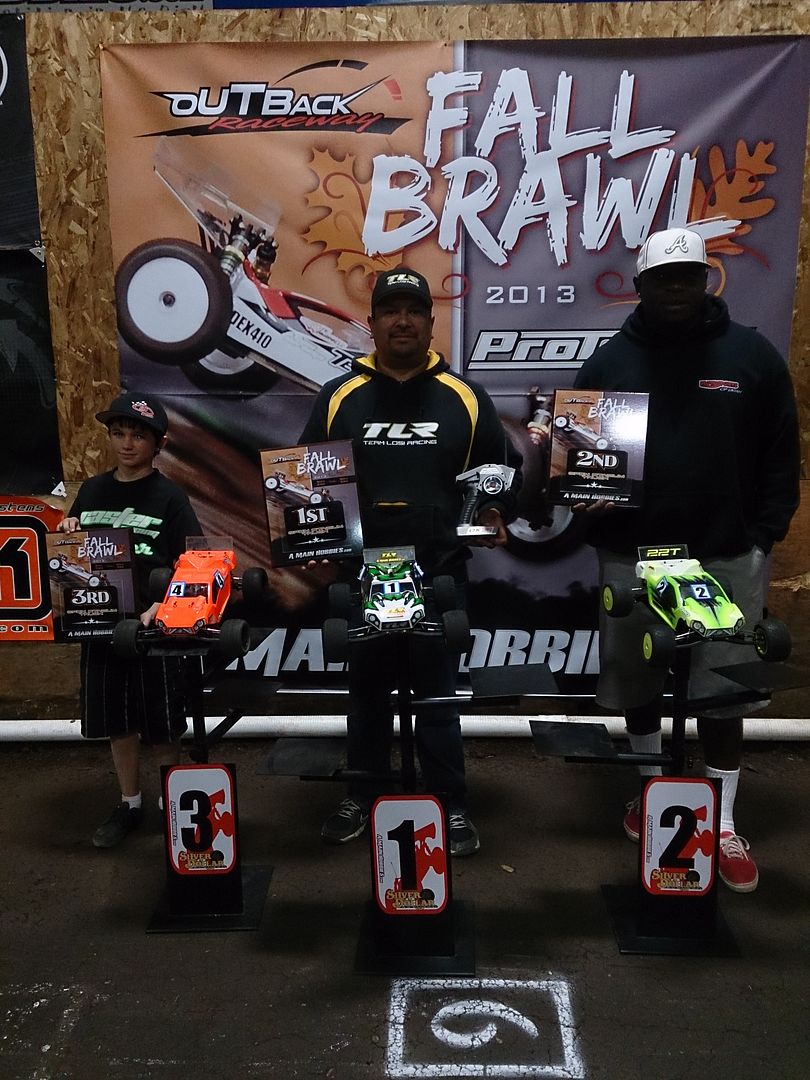 For the 2013 installment of the Fall Brawl our second largest division would be Open 4wd Buggy. Round one of qualifying would see up and coming Sacramento, CA racer Nathan Bernal TQ round one by a mere 0.737 seconds over veteran Team Associated driver Brian Strange. At this point it looked like the 15 year old Bernal would be the man to beat in his Team Associated B44.2. Round two would see Bernal break during warm-up and not make the start of his second qualifier. With the absence of Bernal it would be Team A Main Hobbies.com driver Tyler Vik who would driver his Xray XB4 to a TQ for round two and Brian Strange would finish second for the round. Round three would see Nathan Bernal run the fastest run of the weekend with a 20/5:11.820 and Tyler would finish second for the round. The show down was now set for the final round of qualifying. Bernal, having TQ'd two rounds would only need to finish ahead of Vik to take the overall TQ and the pole position in Sunday's final. For Vik to take the overall TQ he would have to TQ the final round of qualifying, force the tie breaker with Bernal and run faster than a 19/5:08.016. Would Vik and his Xray XB4 be up to the challenge? From the start of the final qualifier Vik looked to be in control turning the second fast lap of the weekend on lap 6 which would help to propel him to the round TQ the overall TQ and the pole position for Sunday's final. The final would be much less eventful. Vik, starting on the tone from the pole would never look back taking his Speed Passion powered Xray XB4 to a dominating victory finishing with 32 laps. Nathan would drop to the third position on the first lap after being passed by Brian Strange where they would remain to the finish of the final. The final finish order would end up Tyler Vik 1st, Brian Strange 2nd, Nathan Bernal 3rd, James Arluck 4th, Terry Wickum 5th, Lou Figueria 6th, Jace Tillman 7th, Ben Kobetz 8th, Chad Bradley 9th and Jeff Lorenzo 10th.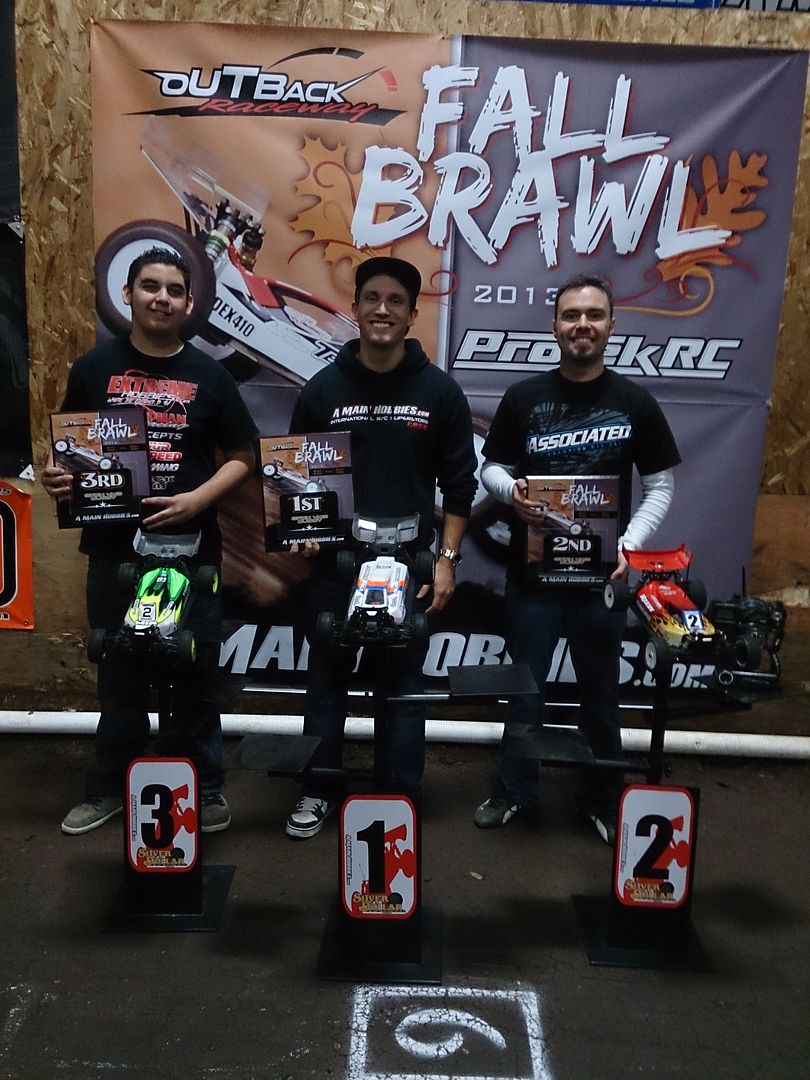 The Open 4wd Short Course division is always hotly contested at Outback Raceway events and the Fall Brawl was no exception. With most of the fast Nor Cal 4wd SCT driver in attendance this weekend the completion would be epic. AMainHobbies.com team driver Austin "The Weasel" Blair would wage war on BMiller Racing's "Big" Lou Figueria for four rounds of qualifying. Lou would take round one, Austin round two, Lou round three and Austin round four. This would leave the two drivers in a tie after four rounds of qualifying. Austin would take the tie breaker (combined total laps and times from the two counting qual point's rounds) by nearly 10 seconds over Lou and the pole position for Sunday afternoon's final. Going into the final it looked like there would only be two other drivers, Jeff Lorenzo and Trevor Lund that appeared to have an outside shot at upsetting either Blair or Figueria. After all the dust settled in the 8 minute final it was Austin Blair taking the victory with a wire to wire win and "Big" Lou finishing second. The best battle came from Lorenzo and Lund. It would be Lund holding down the third position until about the six minute mark when Jeff Lorenzo would find himself in the third position. Lund would drop to fourth and would eventually finish 8th with mechanical issues. The final finish order would be Austin "the Weasel "Blair 1st, "Big" Lou Figueria 2nd, Jeff Lorenzo 3rd, Josh Close 4th, Jason Schurig 5th, Cameron Townsend 6th, Cameron Kerndt 7th, Trevor Lund 8th, Ben Kobetz 9th, Michael Counsil 10th.
The Stock 2wd Buggy division has really begun to heat up on the Nor Cal racing scene in the last 12 months and the Fall Brawl would be no exception. The Stock 2wd Buggy division would be the largest division with over 30 of the fastest Nor Cal racers in attendance providing the best racing action of the weekend. This looked like the class to be in with 10 – 12 racers having a legitimate shot at the division's title coming into the weekend. The big surprise in the 2wd Stock Buggy division would come from 16 year old Sacrament, CA native Couver Smith. Couver would take his Team C TC02C mid motored buggy to the overall TQ and the pole position in Sunday's final with a TQ in two of his four qualifying rounds. A Main Hobbies' own Brett Bowen would start second on the grid in the final by capturing the TQ for round one and a second in round three. Perennial front runner Nathan Lavery would round out the top three starting positions headed into the final. At the start of Sunday's final Couver would make it thru the first couple of infield turns unscathed and hold his lead for the full eight minutes and secure his first "BIG" race win with a wire to wire victory. Couver has been racing for less than two years and has come a long way in a very short amount of time. If he can figure out how to balance college and RC over the next couple of years I would expect to see good things from this youngster. The battle would be on for the remaining two podium positions. On lap seventeen disasters would strike Bowen when a popped front ball cup on his TLR 22 2.0MM would drop him to 9th position where he would finish. Needless to say Brett was very unhappy with his finish and has vowed to redeem himself at the next Outback event. The benefactor of Bowen's misfortune would be Pete "Gascan" Gascon and his Kyosho RB6MM. Pete would inherit the second position given up by Brett's misfortune and hold it for the remainder of the race to finish second. John Scott and his Tekin powered TLR 22 would also benefit from Bowen's misfortune when he found himself in the third position in a battle with Gascon for the second position. Gascon would hold off John where he would go onto finish 3rd. The final overall finish order would be Couver Smith 1st, Pete "Gascan" Gascon 2nd, John Scott 3rd, Corey Koehler 4th, Nathan Lavery 5th, Brian "Mod 4 Life" Minks 6th, Randy "The Slower 1" Lathrop 7th, Mark Schroeder 8th, Brett Bowen 9th and Bryan Eady 10th.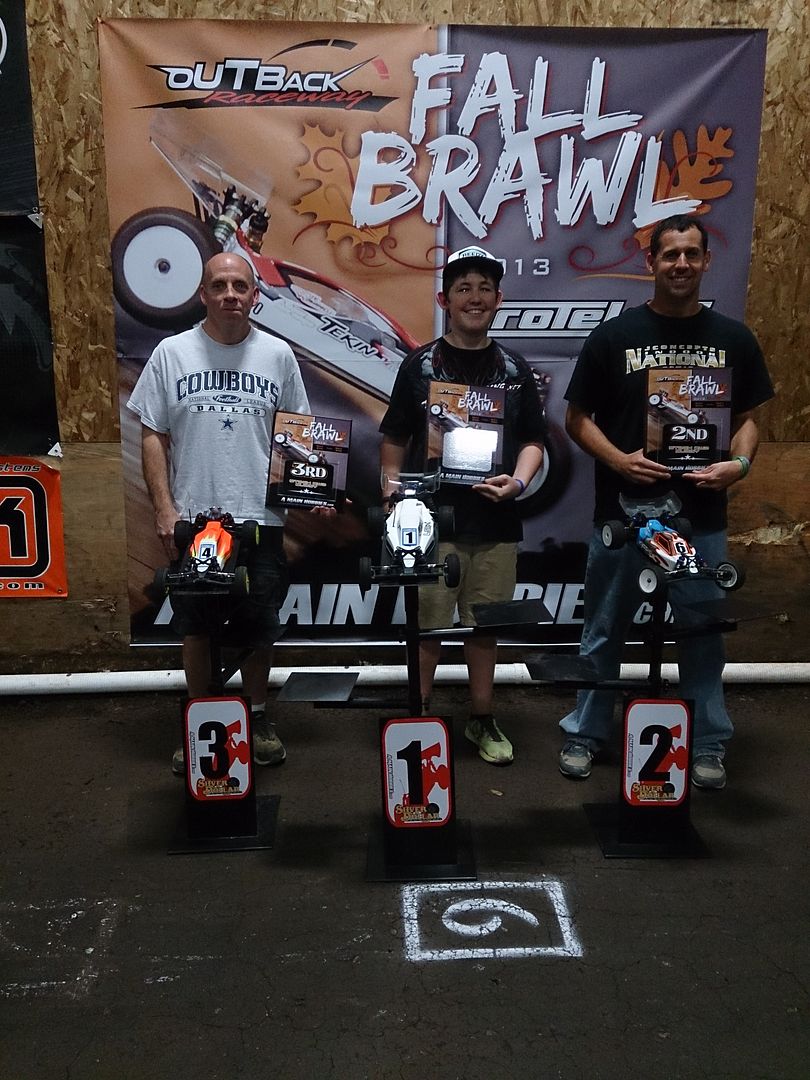 Coming into the Fall Brawl one of the pre-race favorites to take the Open 2wd Buggy division title would be 15 year old, Sacrament, CA native Nathan Bernal. Nathan has been on a tear in 2013 making a name for himself as a young up and comer with some great podium results at all of the biggest 1/10th electric west coast events. Things didn't start off well for the young Bernal. Round one would see Bernal place 4th for the round with a mistake plagued run and perennial front runner Justin Moon taking the TQ. For round two Bernal's bad luck would continue seeing him take a third for the round and Tyler Vick taking the round two TQ. Round three was up and for the young Bernal it was do or die time. If he wanted TQ he would have to TQ the final two rounds. With a near perfect run in round three, Bernal would lay down the fastest run of the weekend in the Open 2wd Buggy division and be half way to is goal of a Sunday afternoon pole position with the round three TQ. Round four was do or die time for our TQ's of the first three rounds, Moon, Vik and Bernal. If any one of these three drivers TQ'd round four they would be overall TQ for the division. The final qualifier for the Open 2wd Buggy division would be a nail bitter with nearly everyone in the house around the track to see who would take the TQ in this hotly contested division. Vik would start first followed by Moon and Bernal. After the first lap it would be Bernal to the lead and this is where it would get interesting. On the next lap Bernal would give the lead to Philip Atondo. Moon had a bit of a rough start and by now was in his rhythm throwing down fast laps when he would move to the lead on lap five. From here on out it would be a two car battle between Moon and Bernal for the overall division TQ. At the end of the five minute qualifier it would be Nathan Bernal with the round and overall TQ. Bernal and Moon swapped for the lead six times in this qualifier which made this qualifier the most exciting qualifier of the weekend. The main would be a different story. Bernal would start from the tone and never look back cashing in his pole position start for the victory in the Open 2wd Buggy division. The final order would be Nathan Bernal 1st, Tyler Vic 2nd, Justin Moon 3rd, Brian Strange 4th, Jason Moberly 5th, Philip Atondo 6th, Austin Blair 7th, James Arluck 8th, Kevin Jelich 9th and Bryan Eady 10th.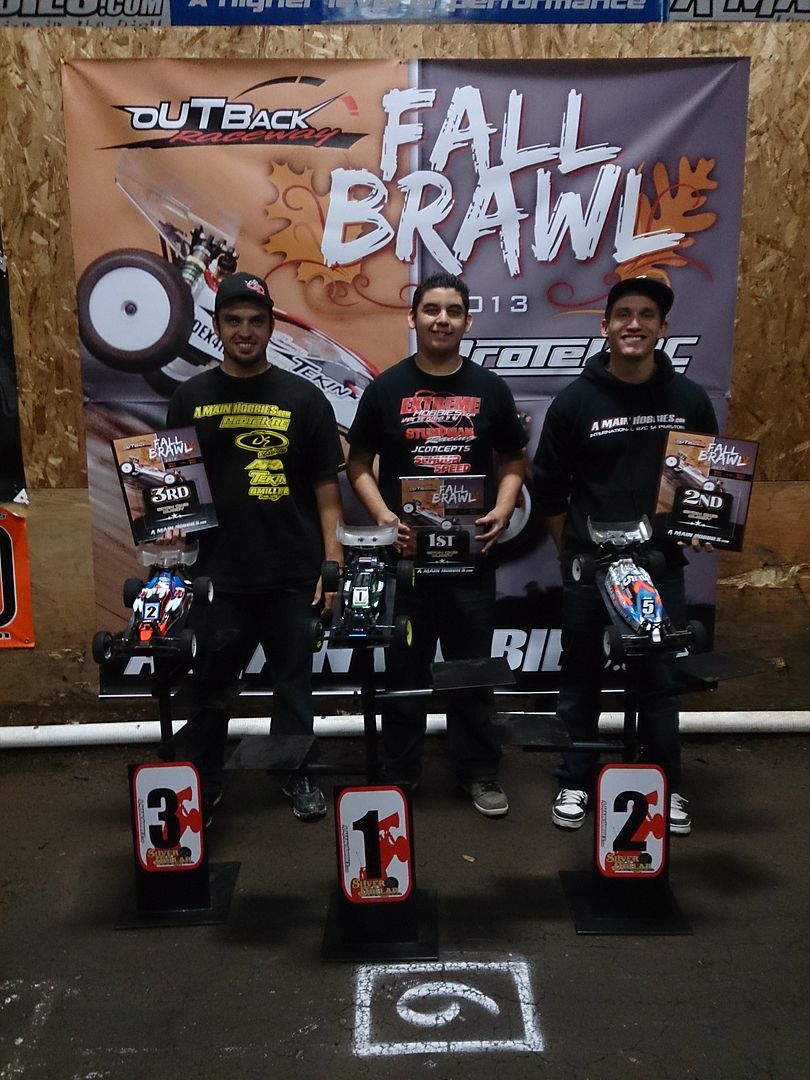 Another Fall Brawl is in the books. Congrats to all our winners and thank you to everyone that contributed to the success of the 2013 edition of the Fall Brawl.